Fort Myers Junk Removal Made Easy with Our Same-Day Services
If you're looking for a reliable and efficient junk removal service in Fort Myers, look no further than Lee Junk Removal! We have a 5-star reputation because you can trust us to get the job done right. Our experienced and trained team can handle any kind of junk removal job. We use the latest tools and techniques to make sure you get the job done fast and safely.
Our dedication lies in utilizing environment-friendly techniques for waste management. This involves incorporating recycling methods and donating articles of acceptable quality, alongside responsibly discarding hazardous substances. Furthermore, we provide complimentary evaluations and offer a range of flexible scheduling options to cater to your busy timetable. Call today and get the best junk removal pricing in Fort Myers Florida. Lee Junk Removal – simple and efficient hauling service.
Clean Up Your Home or Business with Our Affordable Junk Removal in Fort Myers
Lee Junk Removal is committed to competitive pricing. We have the largest trucks so we can offer the biggest savings. Whether your job is big or small, a large truck means efficiency which means we can save you money.
Licensed, Insured, and 5-Star Rated
Call Us Today For Junk Removal Services Near You
(239) 533-0020
The #1 Junk Removal Team in Fort Myers
Junk Removal & Dumpster Rental In Fort Myers FL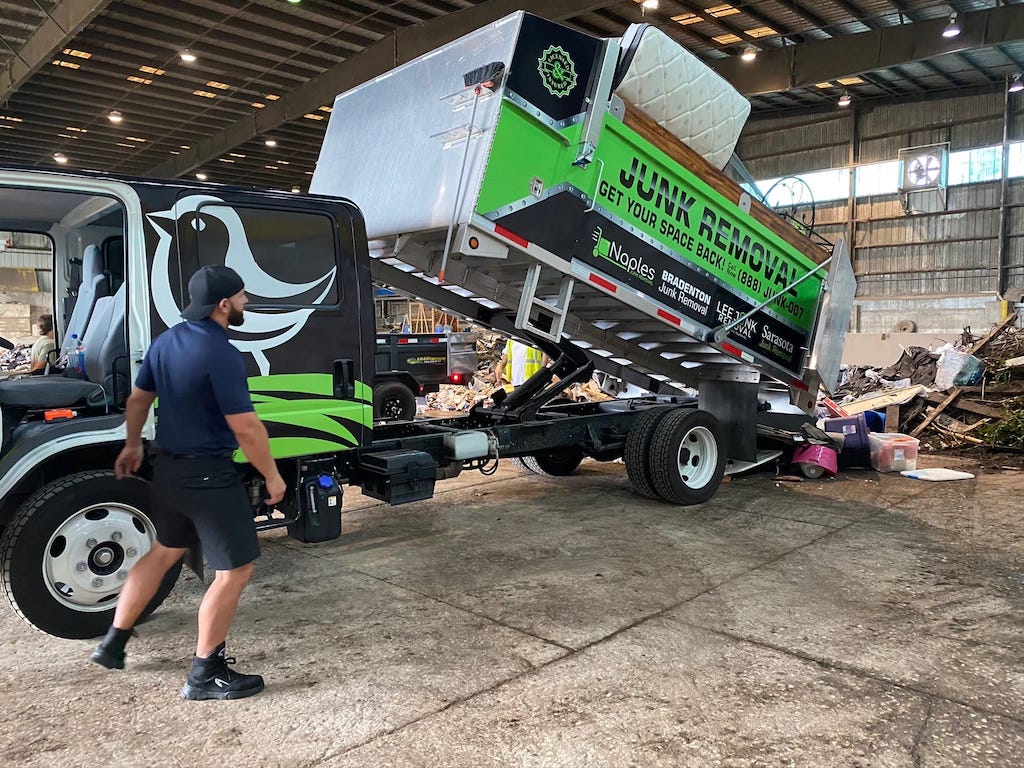 Your Junk Is Our Business
At Lee Junk Removal, you can trust us to take care of all your unwanted items and heavy lifting needs. We offer our services in the Fort Myers area and pride ourselves in providing you with a fast, efficient solution whether it's a small job, or an entire estate cleanout. Don't worry about disposing of those old couches, sofas, chairs, and more; we'll make sure they're gone in no time. Enjoy your home or make the most of your commercial space with our help. Lee Junk Removal – Junk Removal Fort Myers Florida Trusts.
Furniture Removal – Fort Myers FL
We offer a convenient solution for getting rid of furniture on an ongoing basis. Whether you need to dispose of a bedroom set, sofas and armchairs, or a media center, we can make it easy.
Construction Debris Removal – Fort Myers FL
Trash Removal & Packing Materials – Fort Myers FL
Are you overwhelmed by the amount of clutter in your house? Is it getting in your way? If you've recently moved to the Fort Myers area and need to dispose of all the packing materials, we can take care of it on the same day.
Houses, Garages & Storage Unit Cleanouts – Fort Myers FL
Do you have a storage unit that you haven't used for years and keep paying for it? Rates continue to go up, so don't let your money be wasted. Is your garage becoming crowded with stuff and disorganized? In Fort Myers, our team can help you clear up the mess in a few hours by doing a complete house clean-out.
Our Commitment to Quality and Customer Satisfaction
We take pride in providing top-notch service to our customers. From explaining our pricing to making sure your safety and security are taken care of, our team goes above and beyond to make sure you get the best. We make sure our professionals know how to show up and get the job done properly, and in an eco friendly manor. That way, you can trust that you're getting the best service and will feel comfortable when you highly recommend Lee Junk Removal in the future for all junk removal needs in Southwest Florida.
A Professional and Reliable Junk Removal Team
When you hire us, you know you're getting a team that can take care of you. We'll get rid of all the junk on your property, from furniture to appliances to construction waste. Plus, we'll do it in the time frame we agreed on. We're also super professional, so when you give us a call, you'll be greeted by a friendly staff member.
We'll make sure your junk is taken care of so you can start to enjoy your new furniture or space. Plus, we know the local disposal regulations, so you can rest easy knowing your old junk is going to the right place.
Fort Myers Junk Removal – Shop Local
We're also proud to be a local, Fort Myers-based business, so when you use our services, you're supporting a local business. Let Lee Junk Removal help you on your next junk removal journey!
Lee Junk Removal offers a full-service junk removal service, so you don't have to worry about a thing. Our experienced team and commitment to customer satisfaction ensures that every job is completed to the highest standard. We offer junk removal North Fort Myers and Fort Myers trust. Take the hassle out of junk removal by using Lee Junk Removal today!
Lee Junk Removal – Trusted Junk Haulers in Fort Myers FL
Same-Day Service in Fort Myers:
With our same-day service, you can get the professional assistance you need in an emergency in any Fort Myers zip code.
Licensed And Insured Professionals:
Our certified and professionally trained team brings you value, knowledge, and security. Let us take care of the hard work.
24/7 Customer Support:
Provide fast, expert, and trustworthy solutions to all your queries, 7 days a week and serve Fort Myers Monday-Saturday.
Environmentally Conscious:
We pride ourselves on being environmentally conscious. We recycle our appliances and ensure that all waste is properly disposed of.
Free Estimates:
Take the guesswork out of your junk removal and get a free on site estimate today.
Flexible Scheduling:
With our flexible scheduling options, we can work around your busy schedule so you can get the service you need when needed.
The BirdNest Group Junk Removal Guarantee
The BirdNest Group Junk Removal is 100% committed to customer satisfaction. There is a reason we are one of the most trusted furniture, appliance, and junk removal companies in the area. Our satisfaction guarantee means we will not leave a job until the customer is happy with our work. If it takes multiple trips to haul away your furniture, we will be there until the job is complete.
Another component of our satisfaction guarantee involves safety and protection. We take every precaution to ensure that no other furniture or items will be damaged during our furniture removal process. If our team has to rearrange anything to clear a path for furniture removal, we will be sure to put everything back as it was in perfect condition. Your home will look exactly the way it did prior to our arrival minus those pesky appliances you want to be removed!