Get the Most Hassle-Free Hot Tub Removal Around!
At The BirdNest Group, we specialize in hot tub removal and disposal. We have the tools and trained personnel to remove any hot tub. We'll ensure everything is clean and up to code. We have experienced professionals for hot tub removal near you with many junk removal trucks ready to remove your worries.
You can trust our junk removal team to take care of your old hot tubs and spas, so you won't have to worry about them! To ensure your hot tub removal is quick and effective, trust the BirdNest Group to provide your spa removal is done efficiently and without a problem. Trust the BirdNest Group regarding hot tub removal and disposal, and remember to service junk removal for old hot tubs.
Licensed, Insured, and 5-Star Rated
Call Us Today For Hot Tub Removal Services Near You
(239) 533-0080
The #1 For "Hot Tub Removal" in SouthWest Florida
Hot Tub Removal Near You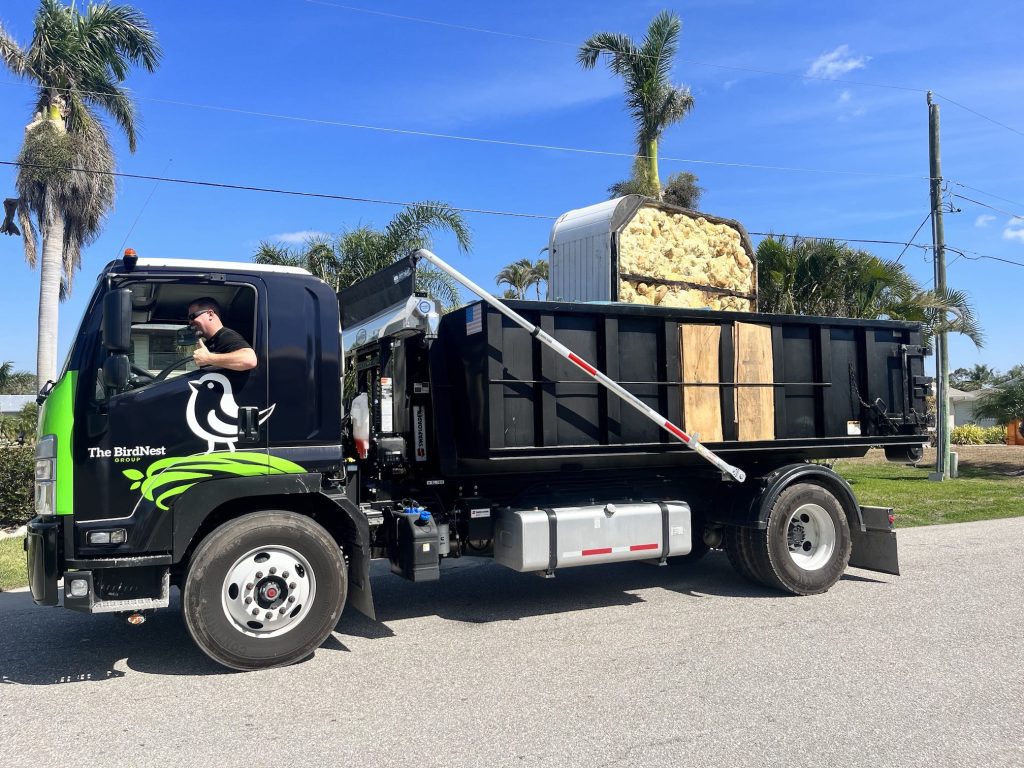 Fast, Reliable Hot Tub Removal in Your Area Now!
At The BirdNest Group, we pride ourselves on providing the best hot tub removal cost near you. We don't cut corners and take great care in ensuring your hot tub spa is disposed of properly. So if you're wondering how to get rid of a hot tub – Here's a look at some of the disposal services we offer:
Professional Hot Tub Removal
Our experienced technicians will come to your home and professionally remove your hot tub and dispose of it efficiently, safely, and sustainably by top rated junk hauling professionals. We know this is more than a 2 person job. You can have peace of mind knowing that we provide free estimates, work safely and quickly, and still beat the average costs for removal in your area.
Onsite Junk Removal
We offer onsite junk removal services, so you don't have to worry about moving the hot tub alone. We'll handle the heavy lifting for you and ensure the job is done right. We know how to dispose of a hot tub safely and properly.
Comprehensive Hot Tub Disposal
When it comes to hot tub disposal, we ensure all the materials and parts are recycled or donated as appropriate. We'll also provide all the materials are disposed of responsibly according to local, state, and federal guidelines. With proper recycling, we keep hot tub disposal costs down.
Top Quality Service
Our team is always available to answer all your questions, and we strive to provide the best customer service experience possible. We're committed to giving you the best value for your money, and our team is always available to provide helpful advice whenever you need it.
Our Commitment to Quality and Customer Satisfaction
We take pride in providing top-notch service to our customers. From explaining our pricing to making sure your safety and security are taken care of, our team goes above and beyond to make sure you get the best. Plus, we make sure our professionals know how to show up and get the job done properly, in an eco friendly manor, and completely. That way, you can trust that you're getting the best service and that your customers will keep coming back.
A Professional and Reliable Junk Removal Team
When you work with us, you can be sure that you're working with a team that cares about you. We'll take care of all of your junk, whether it's furniture, appliances, or construction waste, and we'll do it within the timeframe we agreed upon. We're also very professional. When you call us, you'll be welcomed by a friendly member of our local staff.
When we take care of your junk, you can start enjoying your new furniture and space. We also know local disposal laws, so you'll have peace of mind knowing that your old junk will be taken care of.
How We Handle Removal Of Hot Tubs
Our clients can rest easy knowing that their hot tub removal is in good hands with The BirdNest Group. The first step is to determine the size and condition of the hot tub, access to the area, and any special requirements. Then, we will provide you with an estimated timeline and cost for the removal. We'll also come to the job site and provide a free, no-obligation quote before we start the removal process.
Once you give the okay, our experienced hot tub removal professionals will begin the removal process. We'll safely and adequately remove the hot tub and correctly dispose of it, ensuring it doesn't harm anyone or the environment.
What Does the Hot Tub Removal Process Involve?
Assessment:
We begin by taking a comprehensive look at your hot tub. We consider the type of hot tub, its location, accessibility, and obstacles to get you the best hot tub removal cost.
Preparation:
We ask that hot tubs have been disconnected from the electrical connection and have been drained prior to our arrival. Without the proper license and insurance relating to disconnecting electric, standard coverage does not protect home owners or junk removal employees that are hurt working on electrical lines.
Dismantling
Depending on your removal needs, we will either disassemble and remove parts of your hot tub or, if we are able, remove it in one piece.
Clean Up & Disposal
Once we have removed your hot tub, we take care of all the necessary clean-up and disposal. We leave your property as we found it and follow the proper disposal procedures for waste materials governing spa removal near you.
The BirdNest Group Junk Removal Guarantee
The BirdNest Group Junk Removal is 100% committed to customer satisfaction. There is a reason we are one of the most trusted furniture, appliance, and junk removal companies in the area. Our satisfaction guarantee means we will not leave a job until the customer is happy with our work. If it takes multiple trips to haul away your furniture, we will be there until the job is complete.
Another component of our satisfaction guarantee involves safety and protection. We take every precaution to ensure that no other furniture or items will be damaged during our furniture removal process. If our team has to rearrange anything to clear a path for furniture removal, we will be sure to put everything back as it was in perfect condition. Your home will look exactly the way it did prior to our arrival minus the junk, of course.