Appliance Removal – The Easy Way
Whether you just moved into a new home or you are simply looking to do an appliance upgrade, The BirdNest Group can haul away your unwanted appliances and dispose of them safely. We understand that removing appliances may be a daunting task, especially given the size of such items as refrigerators, washers/dryers, dishwashers, etc. No matter the appliance, size, or location in your house, our licensed professionals can remove your appliances with ease to make way for your new, modern appliance upgrades.
The BirdNest Group has been a proud local source of qualified appliance removal for years. We are a trusted name, used and recommended by residents in Southwest Florida. Please contact our team today to receive a free quote on removing and disposing of your old appliances!
Licensed, Insured, and 5-Star Rated
Call Us Today For Appliance Removal Services Near You
(239) 533-0080
The #1 For "Old Appliance Removal" in SouthWest Florida
Appliance Removal Near You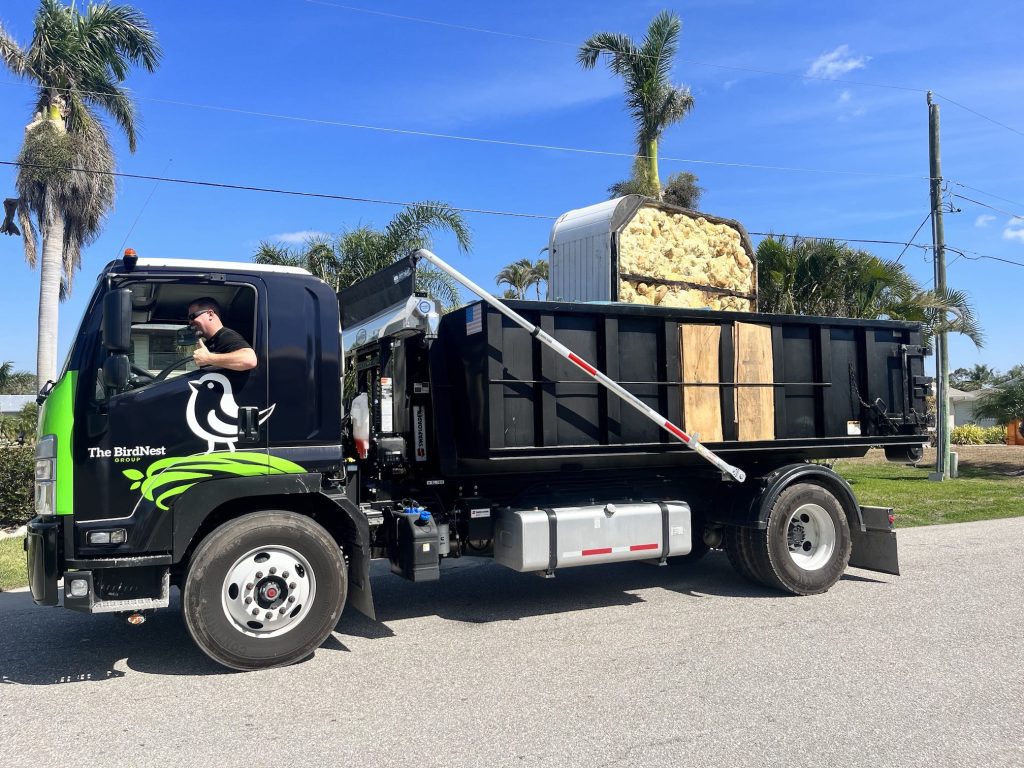 Fast, Reliable Appliance Removals in Your Area Now!
There is no one size fits all when it comes to appliances. Some appliances are more difficult than others to remove from your home. Depending on the location of your appliances, removing them from your home can be especially challenging. Fortunately, our appliance removal experts have the expertise and equipment needed to get into every nook and cranny of your home to remove your appliances safely and without causing any damage to your appliances or your home.
Appliance Removal
The BirdNest Group specializes in quickly and safely removing large appliances such as washers and dryers, refrigerators, and ovens from residential or commercial locations.
Appliance Recycling
With our specialized team, The BirdNest Group makes it easy to recycle old appliances in an environmentally responsible manner.
Appliance Donation
The BirdNest Group proudly assists with appliance donation requests*, helping to give back to our local communities.
Appliance Disposal
We provide comprehensive and easy disposal solutions for appliances of all sizes and ages, ensuring safe and hassle-free results.
Our Commitment to Quality and Customer Satisfaction
We take pride in providing top-notch service to our customers. From explaining our pricing to making sure your safety and security are taken care of, our team goes above and beyond to make sure you get the best. Plus, we make sure our professionals know how to show up and get the job done properly, in an eco friendly manor, and completely. That way, you can trust that you're getting the best service and that your customers will keep coming back.
A Professional and Reliable Junk Removal Team
When you hire us, you know you're getting a team that can take care of you. We'll get rid of all the junk on your property, from furniture to appliances to construction waste. Plus, we'll do it in the time frame we agreed on. We're also super professional, so when you give us a call, you'll be greeted by a friendly staff member.
We'll make sure your junk is taken care of so you can start to enjoy your new furniture or space. Plus, we know the local disposal regulations, so you can rest easy knowing your old junk is going to the right place.
How We Handle Removal Of Appliances
We at The BirdNest Group believe in protecting our environment and strive to make a positive impact. Our mission is to reduce, recycle and repurpose large appliances or reuse the scrap metal – especially refrigerators – to help keep them out of landfills. We're passionate about providing second chances for these items and allowing people like you to do the same. If you have an old fridge or washing machine that has outlived its usefulness, don't leave it to gather dust in the garage. Let us take it off your hands and send it to a new home. Together, we can ensure the Earth stays healthy for generations!
The BirdNest Group – Appliance Removal Pros For A Reason
Same-Day Service:
Get the professional help you need in a pinch with our guaranteed same-day service.
Licensed And Insured Professionals:
Our highly trained and certified professionals bring you to value, expertise, and peace of mind. Let us do the heavy lifting.
Affordable rates: You don't have to break the bank to get the service you need – count on The BirdNest Group for unbeatable prices.
24/7 Customer Support:
Get timely, knowledgeable, and reliable answers to all your questions and concerns – day or night.
Environmentally Conscious:
We take great pride in helping to preserve the environment. We recycle appliances and make sure all materials are properly disposed of.
Free Estimates:
Take the guesswork out of appliance removal and get a free estimate today.
Flexible Scheduling:
With our flexible scheduling options, we can work around your busy schedule so you can get the service you need when needed.
The BirdNest Group Junk Removal Guarantee
The BirdNest Group Junk Removal is 100% committed to customer satisfaction. There is a reason we are one of the most trusted furniture, appliance, and junk removal companies in the area. Our satisfaction guarantee means we will not leave a job until the customer is happy with our work. If it takes multiple trips to haul away your furniture, we will be there until the job is complete.
Another component of our satisfaction guarantee involves safety and protection. We take every precaution to ensure that no other furniture or items will be damaged during our furniture removal process. If our team has to rearrange anything to clear a path for furniture removal, we will be sure to put everything back as it was in perfect condition. Your home will look exactly the way it did prior to our arrival minus those pesky appliances you want to be removed!