Moving Got Messy? Let The BirdNest Group Restore the Balance!
Do you have a pile of used cardboard boxes and moving supplies cluttering your home and garage? Every time you see the clutter, you start wondering how to get rid of these piles and sort them out. The BirdNest Group can help restore the peace of mind you have been missing for so long and free up much-needed space when you need it the most.
When you need a helping hand with your cardboard and moving box removal, we have solutions and expertise to get the job done quickly, efficiently, and responsibly.
Whether you're in the midst of a move or need to upgrade your storage situation, The BirdNest Group is here to help. We offer a simple cardboard and moving box removal service to make your transition a breeze.
Licensed, Insured, and 5-Star Rated
Call Us Today For Moving Box Removal Services Near You
(239) 533-0080
The #1 For "Moving Box Removal" in SouthWest Florida
Cardboard Box Removal Near You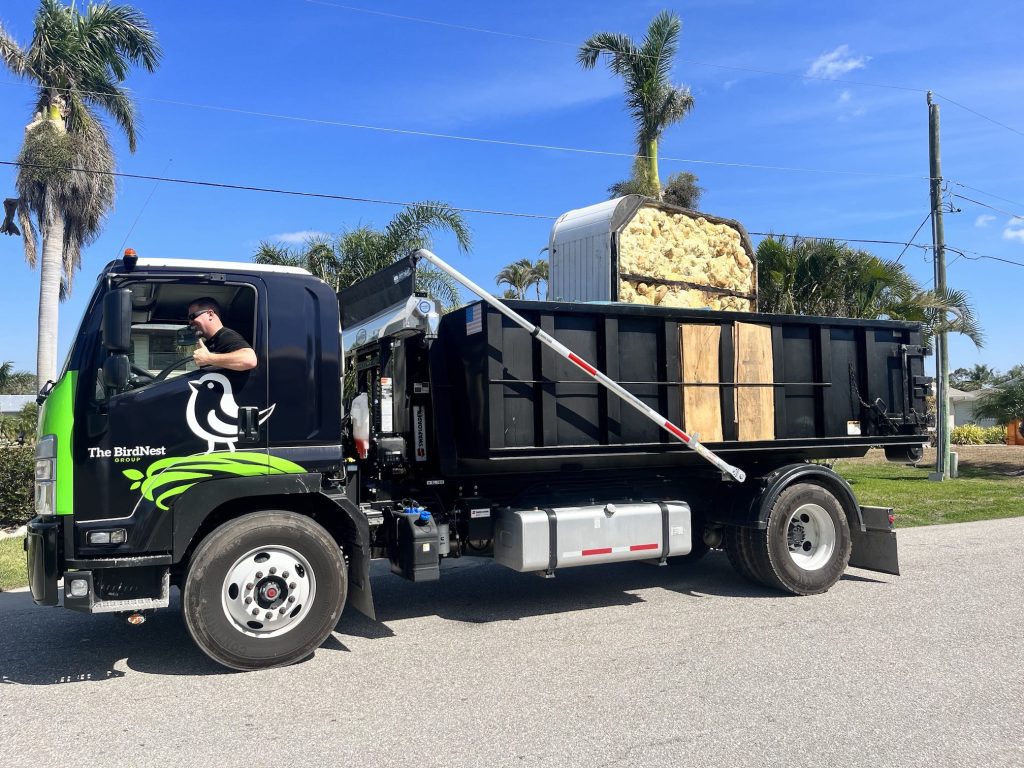 The Benefits of Cardboard & Moving Box Removal
Moving can be a stressful experience, and dealing with a mountain of cardboard and other materials you don't want or need is just one additional complication. The BirdNest Group makes it easy with our cardboard & moving box removal services and upfront pricing. If you need cardboard removed – Call Today!
Taking advantage of The BirdNest Group's cardboard & moving box removal services will allow you to enjoy a cleaner and brighter home. Say goodbye to unsightly cardboard piles and free up additional space, making it easier to enjoy your living space.
Professional Cardboard & Packing Material Disposal
The Birdnest Group has established itself as a leading expert in cardboard and moving box removal. With years of experience and a dedicated team of professionals, we have the expertise and equipment to efficiently and effectively remove and dispose of cardboard and moving boxes. Our commitment to sustainability and customer satisfaction sets us apart in the industry.
Clear the Clutter
Rid yourself of the excess cardboard and moving boxes that occupy your home. If you're looking for moving box removal near you, trust that we can remove the mess that's been left long after the moving companies are gone. We'll use local recycling facilities for cardboard disposal of all empty boxes you may have. We can even accept other items you need gone as well.
Streamlined & Efficient
Get quickly and easily back to the essential parts of your move. You can count on us to offer same day service, arrive on time, take any amount of cardboard or empty cardboard boxes you may have, and get them to the proper facilities for cardboard recycling.
Our Commitment to Quality and Customer Satisfaction
We take pride in providing top-notch service to our customers. From explaining our pricing to making sure your safety and security are taken care of, our team goes above and beyond to make sure you get the best. Plus, we make sure our professionals know how to show up and get the job done properly, in an eco friendly manor, and completely. That way, you can trust that you're getting the best service and that your customers will keep coming back.
A Professional and Reliable Junk Removal Team
When you work with us, you can be sure that you're working with a team that cares about you. We'll take care of all of your junk, whether it's furniture, appliances, or construction waste, and we'll do it within the timeframe we agreed upon. We're also very professional. When you call us, you'll be welcomed by a friendly member of our local staff.
When we take care of your junk, you can start enjoying your new furniture and space. We also know local disposal laws, so you'll have peace of mind knowing that your old junk will be taken care of.
Breathe Easy with Our Professional Team
At The BirdNest Group, our experienced team will come to your location and take care of all the cardboard and moving boxes in no time. We're committed to ensuring your move is smooth and stress-free. Our team will even provide you with our exceptional moving box removal kit, which includes everything you'll need to pack and unpack your belongings.
That's why we're here to make it easier for you. Our experts will ensure your cardboard and moving boxes are disposed of and recycled before you have to lift a finger. We can provide eco-friendly and sustainable packing materials. So, when we're done, there is no more mess.
Plus, we offer same-day moving box removal services, so whatever the worst-case scenario, you can trust The us to remove all the boxes; we are your perfect one-stop shop to care for waste and hauling needs. It's time to take the stress moving and let us handle the rest. Contact us today to experience the peace of mind of using BirdNest's experienced team.
Make Moving Day Easier with The BirdNest Group's Cardboard & Moving Box Removal Services
Moving can be overwhelming, but with The BirdNest Group's cardboard and moving box removal services, it's easier than ever. Trust us to take care of this integral part of your move so you can move on to other things.
From piles of tape and boxes in the middle of your home to neatly organized stacks outside your door, The BirdNest Group simplifies your move. Forget the hassle and frustration of managing and removing cardboard boxes and packing material alone. We ensure you can focus on other essential aspects of the move.
Instead of a mountain of cardboard boxes and tape, moving has become a project of organization and excitement. Thanks to us, you can enjoy a much smoother transition into your new home. Our cardboard and moving box removal services are ready for your move, so you can get to the fun things of settling in as soon as possible.
The BirdNest Group Junk Removal Guarantee
The BirdNest Group Junk Removal is 100% committed to customer satisfaction. There is a reason we are one of the most trusted furniture, appliance, and junk removal companies in the area. Our satisfaction guarantee means we will not leave a job until the customer is happy with our work. If it takes multiple trips to haul away your furniture, we will be there until the job is complete.
Another component of our satisfaction guarantee involves safety and protection. We take every precaution to ensure that no other furniture or items will be damaged during our furniture removal process. If our team has to rearrange anything to clear a path for furniture removal, we will be sure to put everything back as it was in perfect condition. Your home will look exactly the way it did prior to our arrival minus the junk, of course.