Mattress Removal – The Easy Way

Are you in a jam trying to figure out how to get rid of your mattress? Don't sweat it! The BirdNest Group has the solution to all your mattress woes with our dedicated mattress removal services. Take the frustration and hard work out of the equation and have someone remove it quickly! It takes only a few hours, and your mattress will be out of sight. Don't lift a finger; let us handle it!
Our team of experts is available to help with all your mattress removal needs. We can come in, take off the old mattress, haul it away, and dispose of it in an environmentally friendly way. We make sure no part of the mattress goes to waste. We can also discount your next mattress purchase if you use our services. So don't hesitate to let The BirdNest Group do the heavy lifting for you.
Professional pick up and disposal of your mattress
Recycling your mattress at approved facilities
Quick and efficient service
Budget-friendly rates
Quality customer service
Licensed, Insured, and 5-Star Rated
Call Us Today For Mattress Removal Near You
(239) 533-0080
The #1 Mattress Pickup Service in SouthWest Florida
Mattress Removal Near You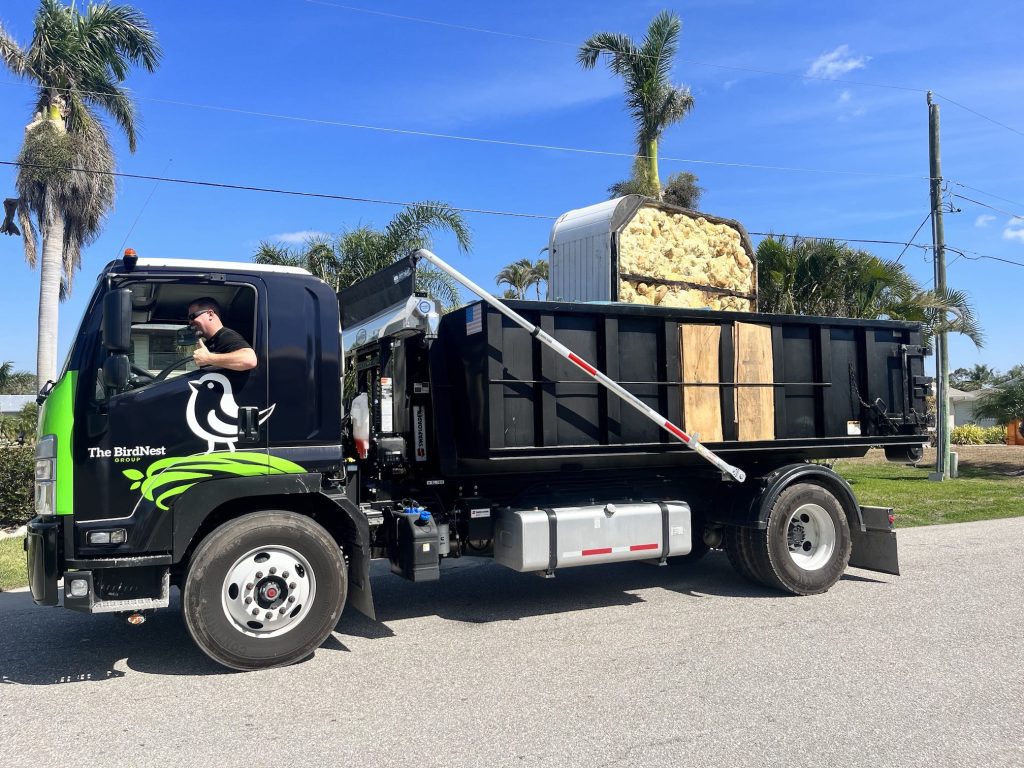 Professional and Experience Mattress Removal
The BirdNest Group has an experienced team dedicated to offering a professional, quick, and budget-friendly service to remove your old mattress. Our staff has years of experience in mattress removal, so you can count on them to handle your mattress with care and expertise. Since mattress donation is nearly impossible in Southwest FL even if it is in good condition and mattress recycling centers still charge a fee for drop offs, we offer a convenient alternative.
Easy Scheduling and Online Booking
Our online booking service makes scheduling and booking our mattress removal services easy. We offer convenient appointment times, and our experienced staff will arrive on time and adequately prepared for the job.
Budget-Friendly
Our mattress removal service is budget-friendly. We strive to provide our clients with the best mattress removal services at the most competitive price.
Environmentally Friendly
We are committed to providing an environmentally-friendly service. Our recycling service ensures you dispose of your old mattress and remove mattress box springs responsibly and sustainably.
Satisfaction Guaranteed
At The BirdNest Group, we strive to provide our customer's satisfactory service. To the best of our ability, our team offers fast, friendly service. We guarantee your satisfaction..
Our Commitment to Quality and Customer Satisfaction
We take pride in providing top-notch service to our customers. From explaining our pricing to making sure your safety and security are taken care of, our team goes above and beyond to make sure you get the best. Plus, we make sure our professionals know how to show up and get the job done properly and completely. That way, you can trust that you're getting the best service and that your customers will keep coming back.
A Professional and Reliable Junk Removal Team
When you hire us, you know you're getting a team that can take care of you. We'll get rid of all the junk on your property, from furniture to appliances to construction waste. Plus, we'll do it in the time frame we agreed on. We're also super professional, so when you give us a call, you'll be greeted by a friendly staff member.
We'll make sure your junk is taken care of so you can start to enjoy your new furniture or space. Plus, we know the local disposal regulations, so you can rest easy knowing your old junk is going to the right place.
A Hassle-Free Mattress Removal Service
Getting rid of your mattress can be challenging, and the last thing you want to do is take up precious time dealing with its disposal. That's why The BirdNest Group offers its mattress removal service, taking the hassle and hard work out of your hands and giving you peace of mind.
Whether you want your old mattress removed quickly and conveniently or need deep cleaning solutions, we offer you the expert help you need. And, when you choose us for your mattress removal, you can be sure you're making a wise investment.
Complete Mattress Removal
Our team has extensive experience removing any size mattress, single or double. We can also care for any mattress pickup and disposal needs, including bulky or bulky items such as box springs and mattresses.
We know customers want their mattresses disposed of in an eco friendly friendly manner. We make sure that mattress make it to the correct facilities that accept mattresses and recycling programs for the unique disposal needs they require.
The BirdNest Group Junk Removal Guarantee
The BirdNest Group Junk Removal is 100% committed to customer satisfaction. There is a reason we are one of the most trusted furniture, appliance, and junk removal companies in the area. Our satisfaction guarantee means we will not leave a job until the customer is happy with our work. If it takes multiple trips to haul away your furniture, we will be there until the job is complete.
Another component of our satisfaction guarantee involves safety and protection. We take every precaution to ensure that no other furniture or items will be damaged during our furniture removal process. If our team has to rearrange anything to clear a path for furniture removal, we will be sure to put everything back as it was in perfect condition. Your home will look exactly the way it did prior to our arrival minus those pesky appliances you want to be removed!