Hire A Professional Hoarding Cleanout Service!
Are you feeling overwhelmed by all the stuff in your house and the thought of getting rid of it all? Do the piles of stuff make you feel like it's impossible to fix? If so, you're in luck! We make Hoarding Clean Up a breeze.
Hoarding can be really tough on you, both physically and mentally. If you're looking for a reliable and affordable way to get rid of the clutter in your home, check out our Hoarder Cleanup Services. We've been helping people just like you take back their space and lives for years now.
Check out our guide to Hoarder Junk Removal to learn more about how we can make the process easier and more stress-free. We've got the experience, the tools, and the expertise to help you get your home back to normal.
Licensed, Insured, and 5-Star Rated
Call Us Today For Hoarder Cleanup Services Near You
(239) 533-0080
The #1 Hoarding Clean Up Service in SouthWest Florida
Hoarder Cleaning Services Near You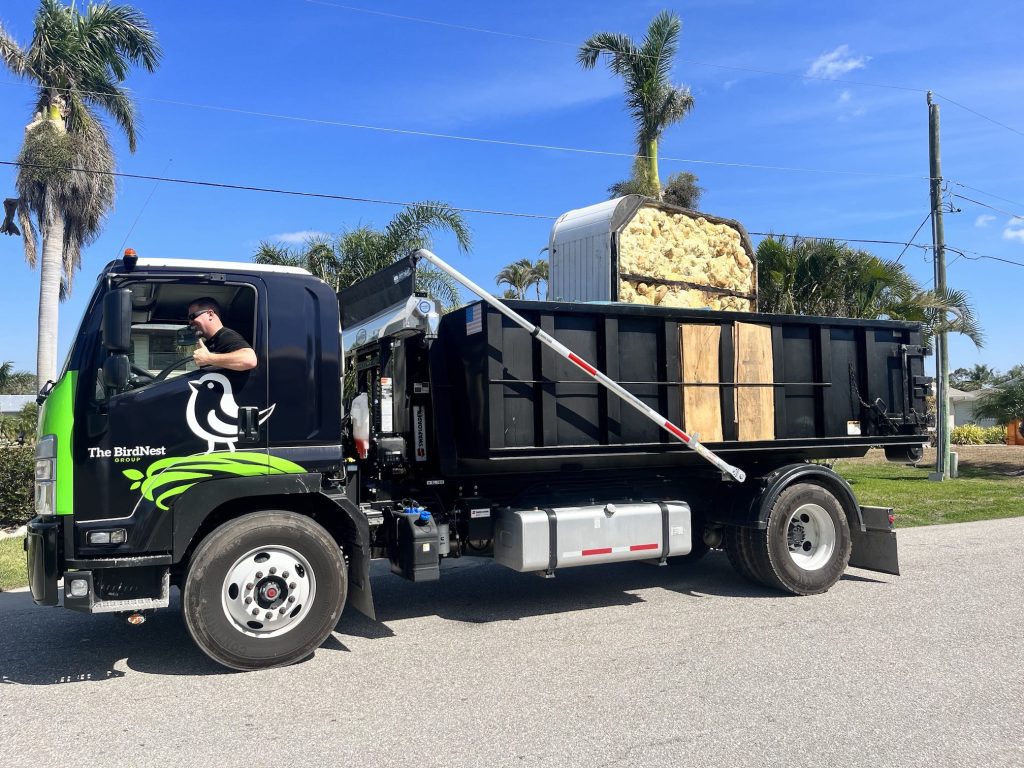 Professional Hoarder Cleaning Services
The BirdNest Group is the town's most trusted hoarding cleanout service. With more than 20 years of experience in the industry, we have the skills and know-how to handle every junk removal job with the compassion and respect for the situation. We offer competitive pricing and a team of professionals ready to assist you with same-day junk removal services at your doorstep.
Easy Scheduling and Online Booking
Our online booking service makes scheduling and booking our mattress removal services easy. We offer convenient appointment times, and our experienced staff will arrive on time and adequately prepared for the job.
Hoarder Cleanout Services
Our professional team of cleaners will arrive ready to tackle any hoarding job you may have. We are skilled at removing items safely, disposing of things properly, and removing bulk items from hoarding situations. We are not licensed for hazmat cleaning service for hoarders.
Free Estimates
We will provide a free, estimate based on your individual needs for the situation and manpower needed to complete the job. We can begin your cleanout in the best time frame for you.
Satisfaction Guaranteed
At The BirdNest Group, we strive to provide our customer's satisfactory service. To the best of our ability, our team offers fast, friendly service. We guarantee your satisfaction..
Our Commitment to Quality and Customer Satisfaction
We take pride in providing top-notch service to our customers. From explaining our pricing to making sure your safety and security are taken care of, our team goes above and beyond to make sure you get the best. Plus, we make sure our professionals know how to show up and get the job done properly and completely. That way, you can trust that you're getting the best service and that your customers will keep coming back.
A Professional and Reliable Junk Removal Team
When you hire us, you know you're getting a team that can take care of you. We'll get rid of all the junk on your property, from furniture to appliances to construction waste. Plus, we'll do it in the time frame we agreed on. We're also super professional, so when you give us a call, you'll be greeted by a friendly staff member.
We'll make sure your junk is taken care of so you can start to enjoy your new furniture or space. Plus, we know the local disposal regulations, so you can rest easy knowing your old junk is going to the right place.
How Does The BirdNest Group Help?
At The BirdNest Group, we want to ensure that every hoarding cleanup takes place with care, professionalism, and respect for the individual. We understand that hoarding is an overwhelming problem and that it can be challenging to let go of all the items you may have acquired over the years. That's why we provide services that go above and beyond for those who need our help the most.
Our team provides expert clutter removal, appliance removal, same-day junk removal, and furniture removal services to ensure that all of your clutter and debris is disposed of, recycled, or donated most effectively and efficiently. We also have experience with storage unit cleanouts, so if you need help with your cleaning a storage unit, we can also help.
How To Clean A Hoarders House
A hoarder cleanout is a specialized set of services designed to address the needs of those whose excessive clutter is so extreme that it burdens one's emotional and physical well-being. All items from home go out during this process, and the space is cleaned, sanitized, and organized. We highly recommend a family member be on site while we restore the home one room at a time. After we assess a hoarding situation, we'll start with a small area and use empty boxes and heavy duty trash bags for the removal of smaller items.
What Sets Us Apart from Other Hoarder Cleanout Services?
What sets The BirdNest Group apart from other hoarding cleanout services is our commitment to providing clients with personalized and caring services. We recognize that hoarders are dealing with an issue that requires understanding, patience, and compassion. That is why we work hard to simplify the cleanout process for our clients.
The BirdNest Group Junk Removal Guarantee
The BirdNest Group Junk Removal is 100% committed to customer satisfaction. There is a reason we are one of the most trusted furniture, appliance, and junk removal companies in the area. Our satisfaction guarantee means we will not leave a job until the customer is happy with our work. If it takes multiple trips to haul away your furniture, we will be there until the job is complete.
Another component of our satisfaction guarantee involves safety and protection. We take every precaution to ensure that no other furniture or items will be damaged during our furniture removal process. If our team has to rearrange anything to clear a path for furniture removal, we will be sure to put everything back as it was in perfect condition. Your home will look exactly the way it did prior to our arrival minus those pesky appliances you want to be removed!