Tired Of A Messy, Unusable Garage?
As time goes on, it's common to accumulate things in our home, and much more easily our garage. Quickly becoming cluttered with items we'll never use or even see again, garages can get out of hand, quick. At The BirdNest Group – we know how important it can be to keep junk from becoming a way of life.
Let us take the stress out by providing a professional garage cleaningout service. We clean homes, estates, condos, apartments, and other residences. Our professional home cleanout experts will be sure to provide personalized and prompt services.
Book Your Cleanout Today.
Our cleanout teams are always ready to help with your needs. We will be busy preparing the trucks to load your belongings as soon as possible. With us, you have reliable garage cleanout experts whenever you need them. Call today and get back to your nice clean garage tomorrow.
Licensed, Insured, and 5-Star Rated
Call Us Today For Garage Cleaning Services Near You
(239) 533-0080
The #1 Junk Removal Team in SouthWest Florida
A Cleaner Garage
The Easy Way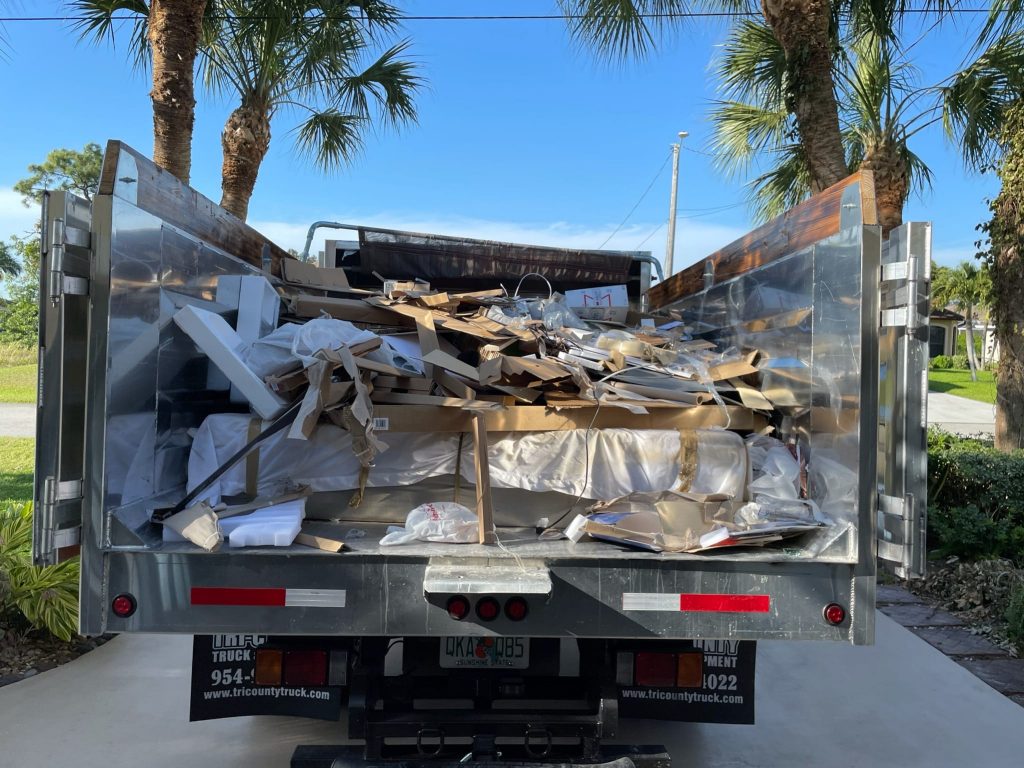 Our Commitment to Quality and Customer Satisfaction
We take pride in providing top-notch service to our customers. From explaining our pricing to making sure your safety and security are taken care of, our team goes above and beyond to make sure you get the best. We make sure our professionals know how to show up and get the job done properly, and in an eco friendly manor. That way, you can trust that you're getting the best service and will feel comfortable when you highly recommend Lee Junk Removal in the future for all junk removal needs in Southwest Florida.
A Professional and Reliable Junk Removal Team
When you hire us, you know you're getting a team that can take care of you. We'll get rid of all the junk on your property, from furniture to appliances to construction waste. Plus, we'll do it in the time frame we agreed on. We're also super professional, so when you give us a call, you'll be greeted by a friendly staff member.
We'll make sure your junk is taken care of so you can start to enjoy your new furniture or space. Plus, we know the local disposal regulations, so you can rest easy knowing your old junk is going to the right place.
How Our Garage Cleanout Works
We provide a convenient and responsible way of furniture disposal. Our trained furniture haulers will come to your home, providing all equipment and labor necessary to haul away your unwanted furniture items. We aim to provide excellent customer service as we work to clear your home of furniture and clutter that you want to get rid of, without lifting a finger.
Book an Appointment
It is easy to book an appointment with us. You can either call or text us at (239) 533-0080 or fill out the contact form below. Simply select a date for us to come to haul away your furniture.
Garage Cleanout
Our junk furniture hauling team will arrive at the scheduled arrival window and call 15 minutes before arriving on-site. We arrive exactly as scheduled because we don't want you to wait. Once our team arrives, we'll give you an upfront cost and pick your junk quickly — no matter where it's hiding.
Leave Your Garage Clean and Tidy
We'll take care of your junk removal and ensure that your garage is left in good condition without even a single trace of debris. Our experts work like a well-oiled machine, cleaning up after ourselves as we go.
The BirdNest Group Junk Removal Guarantee
The BirdNest Group Junk Removal is 100% committed to customer satisfaction. There is a reason we are one of the most trusted appliance, furniture, and junk removal companies in the area. Our satisfaction guarantee means we will not leave a job until the customer is happy with our work. If it takes multiple trips to haul away your appliances, we will be there until the job is complete.
Another component of our satisfaction guarantee involves safety and protection. We take every precaution to ensure that no other furniture or items will be damaged during our appliance removal process. If our team has to rearrange furniture to clear a path for appliance removal, we will be sure to put everything back as it was in perfect condition. Your home will look exactly the way it did prior to our arrival minus those pesky appliances you want to be removed!