Construction Debris Removal
If you've got a construction project in the works and need help getting rid of all the rubble, the BirdNest group has got you covered. We're a top-notch construction cleaning company that can help you out with dumpster rentals and debris removal.
Our experienced junk hauling team will make sure all the rubbish is properly disposed of, leaving your property spotless and free of debris. Plus, we're licensed, insured and 5-star rated, so you can trust us to get the job done right. If you're looking for a fast and reliable way to take care of construction waste, hiring a professional is the way to go.
Licensed, Insured, and 5-Star Rated
If you're looking for a reliable, licensed, and insured company to help you with your construction trash removal, look no further! We're a 5-star company with a lot of experience in the construction waste removal industry, so you can trust us to get the job done right.
Plus, we'll load your trash quickly and at an affordable price. So if you're looking for someone to help you with construction waste removal, you've come to the right place!
Call Us Today For Construction and Debris Removal Near You
(239) 533-0080
The #1 Debris Disposal Team in SouthWest Florida
Construction Waste Disposal Near You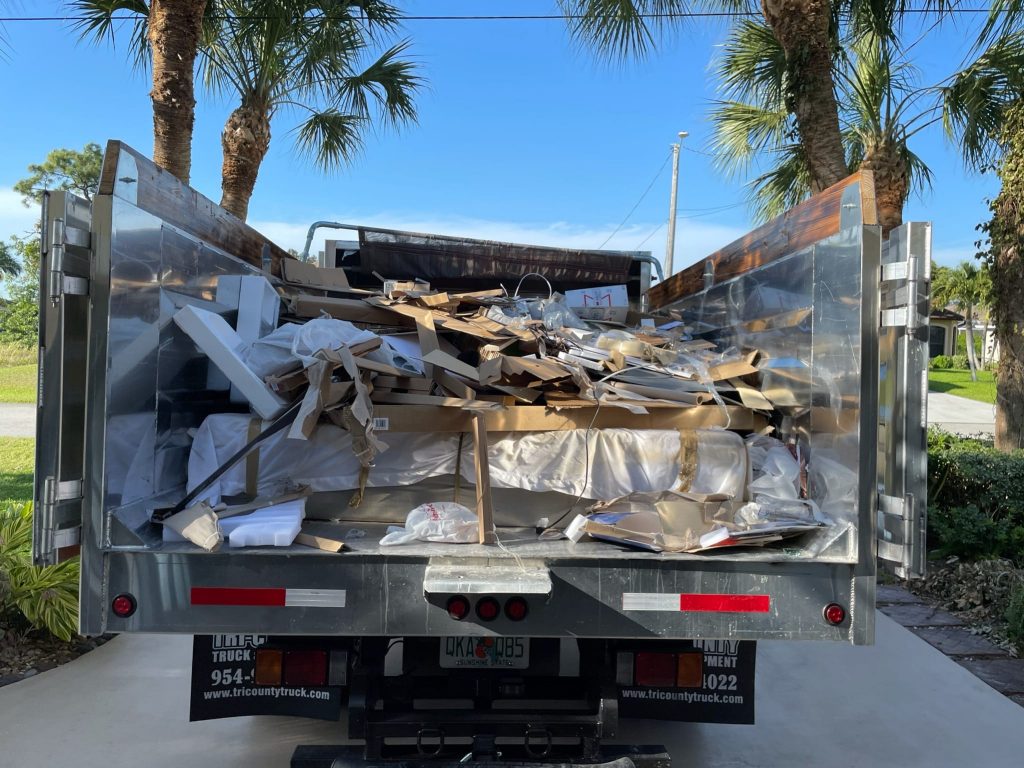 Your Go-To Construction Debris Removal Professionals
We get it – it can be tough managing construction debris removal after your project is done. We want to make sure your job is as easy as possible and don't waste any time or money. We offer a range of services for construction debris removal near you, from full cleanup solutions for homes and businesses to dumpster rental.
Whether it's removing construction and demolition debris, hauling away solid waste or just cleaning up after a construction site, we have the skills and experience to get the job done right. We take pride in our safety and efficiency, and all our technicians are fully trained and experienced. We also follow the strictest industry standards and are eco-friendly. It's our job to handle all the debris recycling, and we know exactly what can be recycled.
Full-Service Cleanup Solutions
We offer a full range of cleanup services, including sweeping, waste removal, debris removal, and more. Our team will work with you to make sure all debris is properly disposed of in a responsible way. We want you to know that your project is handled with care and attention to detail.
Less Hassle and More Affordable
We know how frustrating it can be to deal with construction debris disposal. That's why we're committed to making the process as easy and cost-efficient as possible. With our highly trained, experienced team, you'll be able to get the job done faster and more thoroughly, helping you stay on schedule and within your budget. Plus, our competitive rates make us the go-to for budget-minded project managers.
#1 Choice for Construction Waste Removal in Naples & Fort Myers, Florida
Naples and Fort Myers area locals know they can trust us when they need help getting rid of construction debris after a remodel or demolition project. For years, we've been providing excellent customer service to local homeowners, businesses and contractors as we work to clear construction waste and clutter from their properties.
Construction Waste Disposal:
We are experts in construction waste disposal. Our team is skilled and knowledgeable in removing all types of construction debris. We ensure proper safety measures and regulations are followed during the removal, ensuring your property remains safe and secure.
Construction Site Cleanout:
Our experienced team of professionals can handle all aspects of construction material cleanout, including sweeping, vacuuming, and disposing of construction debris. We follow the best industry practices.
We adhere to all safety standards when cleaning and know exactly how to get rid of construction waste properly. This includes knowing which materials can be recycled.
This leaves you with a safe and clean environment after our service.
A Professional and Reliable Junk Removal Team
When you hire us, you know you're getting a team that can take care of you. We'll get rid of all the junk on your property, from furniture to appliances to construction waste. Plus, we'll do it in the time frame we agreed on. We're also super professional, so when you give us a call, you'll be greeted by a friendly staff member.
We'll make sure your junk is taken care of so you can start to enjoy your new furniture or space. Plus, we know the local disposal regulations, so you can rest easy knowing your old junk is going to the right place.
Why Choose The BirdNest Group for Construction Debris Removal and Clean Up?
At The BirdNest Group, choosing the right company for your construction debris removal is essential, and cleanout needs are imperative. We strive to be the best choice for our clients, which is why we offer several services, including:
Comprehensive Clean Out
At The BirdNest Group, we provide a comprehensive cleanout to ensure the job is done right from start to finish. Our priority is to ensure that the area is left clean and debris-free.
Professional Equipment
We ensure our team uses the proper tools and equipment to remove construction debris and Cleanout. We only use the most advanced and professional tools to complete the job.
Experienced Professionals
You don't have to worry about untrained or unqualified workers when you choose The BirdNest Group. Our teams are highly trained and experienced in construction debris removal and Cleanout.
Safety First
Safety is our number one priority. We pay special attention to safety protocols and procedures to ensure our team and clients stay safe.
Quality Customer Service
We strive to provide the highest possible customer service to our clients. We are responsive, reliable, and go above and beyond to ensure your service satisfaction.
The BirdNest Group Junk Removal Guarantee
The BirdNest Group Junk Removal is 100% committed to customer satisfaction. There is a reason we are one of the most trusted furniture, appliance, and junk removal companies in the area. Our satisfaction guarantee means we will not leave a job until the customer is happy with our work. If it takes multiple trips to haul away your furniture, we will be there until the job is complete.
Another component of our satisfaction guarantee involves safety and protection. We take every precaution to ensure that no other furniture or items will be damaged during our furniture removal process. If our team has to rearrange anything to clear a path for furniture removal, we will be sure to put everything back as it was in perfect condition. Your home will look exactly the way it did prior to our arrival minus those pesky appliances you want to be removed!