Dumpster Rentals
We are your ultimate waste management service – convenient and affordable dumpster rental near you. Whether you're a homeowner or a business, our local and reliable service will help you to quickly rent a dumpster near you and take the hassle out of waste disposal.
Licensed, Insured, and 5-Star Rated
If you're looking for a reliable, licensed, and insured company to help you with your dumpster rental, look no further! We're a 5-star company with a lot of experience in the waste removal industry, so you can trust us to get the job done right.
We service all of Southwest Florida including Collier County, Lee County, Charlotte County, Sarasota County and Manatee County.
We offer 15 and 20 yard dumpsters (15 cubic yards and 20 cubic yards) and usually same day delivery. So if you're looking for a simple, straight-forward dumpster rental, you've come to the right place!
Getting Started with Our Dumpster Rentals
When you're ready to start your project, get in touch and let us know the size and type of dumpster you need. Prices do range depending on size and availability so call today. We'll provide the right dumpster rental for your project and the most efficient waste management service possible.
Call Us Today For Current Cost To Rent Dumpsters
(239) 533-0080
The #1 Dumpster Rental Service in SouthWest Florida
Roll Off Dumpsters Near You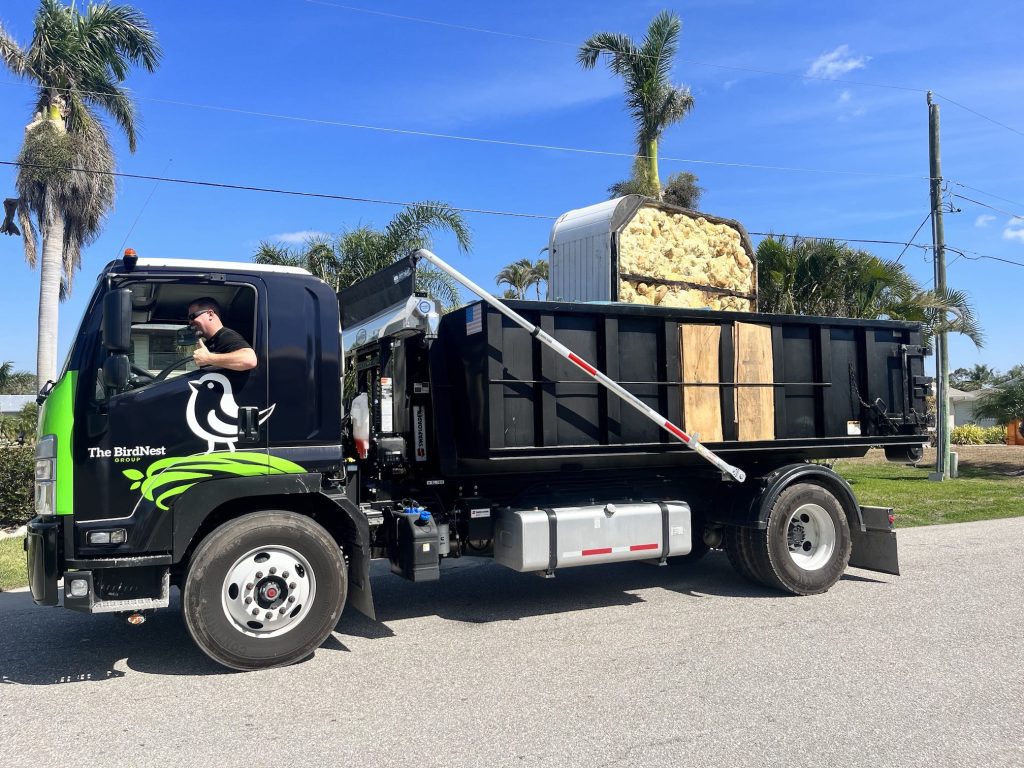 We Go the Extra Mile to Ensure Your Dumpster Rental is Secure!
We carefully inspect our dumpsters before delivery to ensure it meets our rigorous safety standards. Our drivers are well-trained and experienced in delivering, operating, and emptying of dumpsters. We use state-of-the-art equipment to ensure the safe handling of your rental.
Residential Dumpster Rental Services
We offer residential small dumpster rental services for individuals who need a dumpster for yard waste, quick clean-outs or spring-cleaning projects as well as different options for your rental period.
Construction Dumpster Rental Services
We provide construction dumpster rental services for businesses that require a dumpster for larger construction projects and roofing projects or any other type of construction debris.
Commercial Dumpster Rental Services
We also offer dumpster rental services for businesses that require dumpsters for recurring waste pickup services.
Expert Dumpster Assistance
Need extra help with your roll off dumpster? Our team of professionals is available to answer any questions and provide advice when necessary.
Environmentally Friendly Waste Management
We ensure that all waste is disposed of properly and environmentally friendly.
Our Commitment to Quality and Customer Satisfaction
We take pride in providing top-notch service to our customers. From helping you pick the right dumpster to making sure your safety and security are taken care of, our team goes above and beyond to make sure you get the best. Plus, we make sure all the dumpsters we rent are in tip-top shape and regularly serviced. That way, you can trust that you're getting the best service and that your customers will keep coming back.
A Professional and Reliable Junk Removal Team
When you hire us, you know you're getting a team that can take care of you. We'll get rid of all the junk on your property, from furniture to appliances to construction waste. Plus, we'll do it in the time frame we agreed on. We're also super professional, so when you give us a call, you'll be greeted by a friendly staff member.
We'll make sure your junk is taken care of so you can start to enjoy your new furniture or space. Plus, we know the local disposal regulations, so you can rest easy knowing your old junk is going to the right place.
Why Choose The BirdNest Group for Dumpster Rentals?
Waste overflow can be a significant source of frustration and cause safety risks. Our dumpster rental services help you save time, money, and energy while freeing up space and helping you maintain a safe and clean environment. Let The BirdNest Group handle all your waste disposal needs with our consistent and professional dumpster rental service.
Affordable and Convenient Dumpster Rentals
We offer the best dumpster rental prices and constantly work to keep our dumpster rental cost low. We also strive to make the process as easy as possible for our customers. We can even help you find the right size dumpster for your project needs – without hassle or stress.
We Make it Easy to Get the Right Dumpster Rentals.
Our team of professionals is here to help you figure out the perfect size and type of dumpster you need. We ensure we always offer the most efficient and cost-effective waste management services possible.
Saving Time and Money with Dumpster Rentals
We know that time is valuable, and we strive to provide our customers with the most effective dumpster rental solutions possible. Our quick, easy dumpster rental service will save time, money, and energy.
Responsible Waste Disposal
The BirdNest Group believes in responsible waste disposal. We work hard to ensure that our waste management services are eco-friendly and that all residues are treated correctly.
The BirdNest Group Junk Removal Guarantee
The BirdNest Group Junk Removal is 100% committed to customer satisfaction. There is a reason we are one of the most trusted furniture, appliance, and junk removal companies in the area. Our satisfaction guarantee means we will not leave a job until the customer is happy with our work. If it takes multiple trips to haul away your furniture, we will be there until the job is complete.
Another component of our satisfaction guarantee involves safety and protection. We take every precaution to ensure that no other furniture or items will be damaged during our furniture removal process. If our team has to rearrange anything to clear a path for furniture removal, we will be sure to put everything back as it was in perfect condition. Your home will look exactly the way it did prior to our arrival minus those pesky appliances you want to be removed!