A Little About Us…
The BirdNest Group is a locally owned and operated junk removal and hauling company based in Southwest Florida. We are dedicated to providing exceptional service to our customers, and we have built a reputation as one of the most reliable and professional junk removal companies in the area.
At The BirdNest Group, we understand that removing unwanted junk and debris from your property can be a daunting task. That's why we have made it our mission to take the stress and hassle out of the process by providing efficient and affordable services that exceed our customers' expectations.
One of the cornerstones of our business is our reputation for reliability. We know that our customers value quality service, and we take great pride in delivering exactly that. From the moment you contact us to the completion of the job, we are dedicated to providing the best possible experience for you.
We also understand the importance of proper business licenses and insurance. That's why we are fully licensed and insured, giving our customers peace of mind and protection against any unforeseen circumstances. You can trust us to handle your junk removal needs safely and responsibly.
Another key factor that sets us apart from other junk removal companies is our fleet of large trucks. Our trucks are the largest in the industry, which allows us to provide the best pricing for our customers. We can haul away more junk in fewer trips, which means you save time and money.
Licensed, Insured, and 5-Star Rated
Call Us Today For Junk Removal Services Near You
(239) 533-0080
Proudly Offering Reliable Junk Removal and Hauling Services In SWFL
The BirdNest Group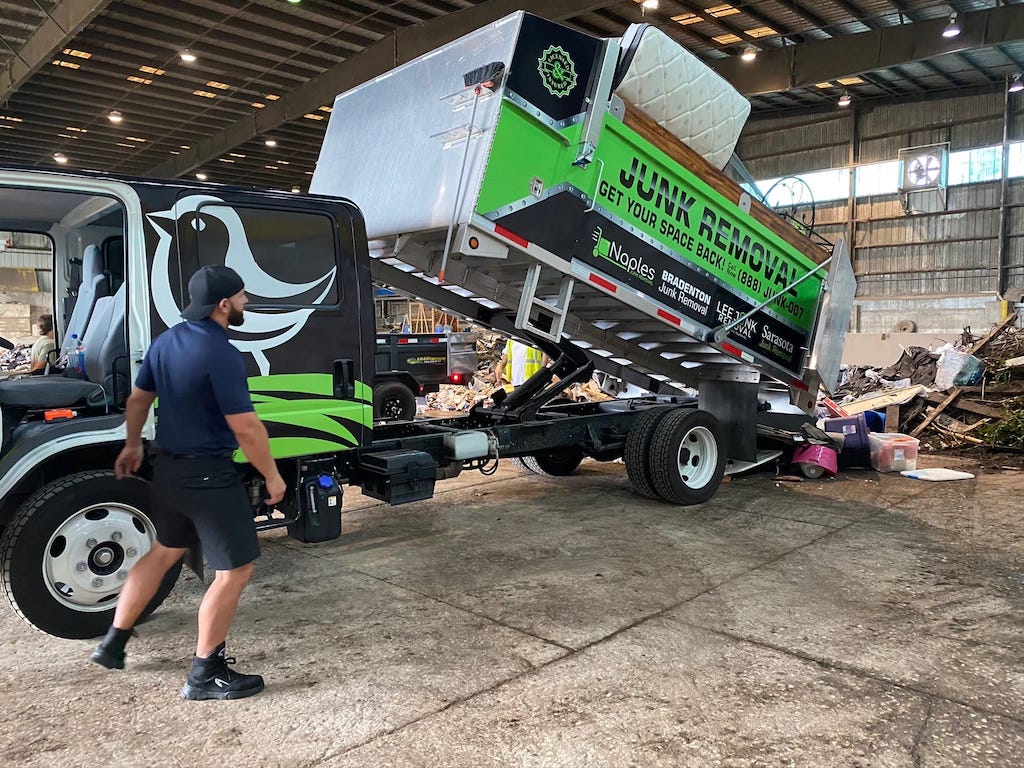 We Serve The Following Areas:
Collier County FL • Lee County FL • Charlotte County FL • Manatee County FL • Sarasota County FL
In addition to our exceptional junk removal services, we also offer recycling and donation services. We believe in doing our part to protect the environment, and we work hard to ensure that as much of the junk we remove as possible is recycled or donated to those in need.
Overall, The BirdNest Group is a company that is dedicated to providing exceptional service, maintaining our reputation for reliability, and using environmentally sustainable practices. If you're in need of junk removal services in Southwest Florida, we invite you to experience the difference that sets us apart from the rest.
Our Commitment to Quality and Customer Satisfaction
We take pride in providing top-notch service to our customers. From explaining our pricing to making sure your safety and security are taken care of, our team goes above and beyond to make sure you get the best. Plus, we make sure our professionals know how to show up and get the job done properly, in an eco friendly manor, and completely. That way, you can trust that you're getting the best service possible.
A Professional and Reliable Junk Removal Team
When you hire us, you know you're getting a team that can take care of you. We'll get rid of all the junk on your property, from furniture to appliances to construction waste. Plus, we'll do it in the time frame we agreed on. We're also super professional, so when you give us a call, you'll be greeted by a friendly staff member.
We'll make sure your junk is taken care of so you can start to enjoy your new furniture or space. Plus, we know the local disposal regulations, so you can rest easy knowing your old junk is going to the right place.
Junk Removal SWFL – Shop Local
Supporting local businesses is crucial, and that's why The BirdNest Group is proud to be a trusted and reputable company in SWFL that provides top-quality junk removal services. Our comprehensive service ensures every job is done correctly and efficiently, so you can get rid of unwanted items cluttering your home stress-free. With our experienced team and commitment to customer satisfaction, you can trust that The BirdNest Group will provide the best service for your junk removal needs. Take the first step in decluttering your home and contact The BirdNest Group today!
The BirdNest Group – Trusted Junk Haulers For a Reason
Same-Day Service:
With our same-day service, you can get the professional assistance you need in an emergency and make your junk pickup stress free.
Licensed And Insured Professionals:
Our certified and professionally trained team brings you value, knowledge, and security. Let us take care of the hard work.
24/7 Customer Support:
Provide fast, expert, and trustworthy solutions to all your queries 7 days a week with top notch customer service.
Environmentally Conscious:
We pride ourselves on being environmentally conscious. We recycle our appliances and ensure that all waste is properly disposed of.
Free Estimates:
Take the guesswork out of junk removal and get a free on site estimate today.
Flexible Scheduling:
With our flexible scheduling options, we can work around your busy schedule so you can get the service you need when needed.
The BirdNest Group Junk Removal Guarantee
The BirdNest Group Junk Removal is 100% committed to customer satisfaction. There is a reason we are one of the most trusted furniture, appliance, and junk removal companies in the area. Our satisfaction guarantee means we will not leave a job until the customer is happy with our work. If it takes multiple trips to haul away your furniture, we will be there until the job is complete.
Another component of our satisfaction guarantee involves safety and protection. We take every precaution to ensure that no other furniture or items will be damaged during our furniture removal process. If our team has to rearrange anything to clear a path for furniture removal, we will be sure to put everything back as it was in perfect condition. Your home will look exactly the way it did prior to our arrival minus those pesky appliances you want to be removed!