Why Choose Naples Junk Removal?
Naples Junk Removal is the best choice for junk removal services for residents in Naples FL. A 5 star reputation shows that we provide efficient and reliable services to our customers. Our local team is experienced and well-trained to handle all kinds of junk removal tasks. As the premier service for junk removal Naples FL trusts, we use the latest equipment and techniques to ensure that the job is done quickly and safely.
As a local company, we are committed to environmental sustainability, and we prioritize eco-friendly disposal methods. We recycle or donate items that are still in good condition, and dispose of hazardous materials responsibly.
Our pricing is affordable and transparent, and we offer free estimates to our customers. We also have flexible scheduling options and can work around our customer's schedule.
Naples Junk Removal is the best choice for junk removal services because we provide efficient, reliable, and eco-friendly services at an affordable price. We prioritize customer satisfaction and are committed to making the world a cleaner and greener place.
Does Naples Junk Removal Cover My Area?
The #1 for Junk Removal in Naples Florida & Marco Island Florida
Junk Removal Naples Florida & Marco Island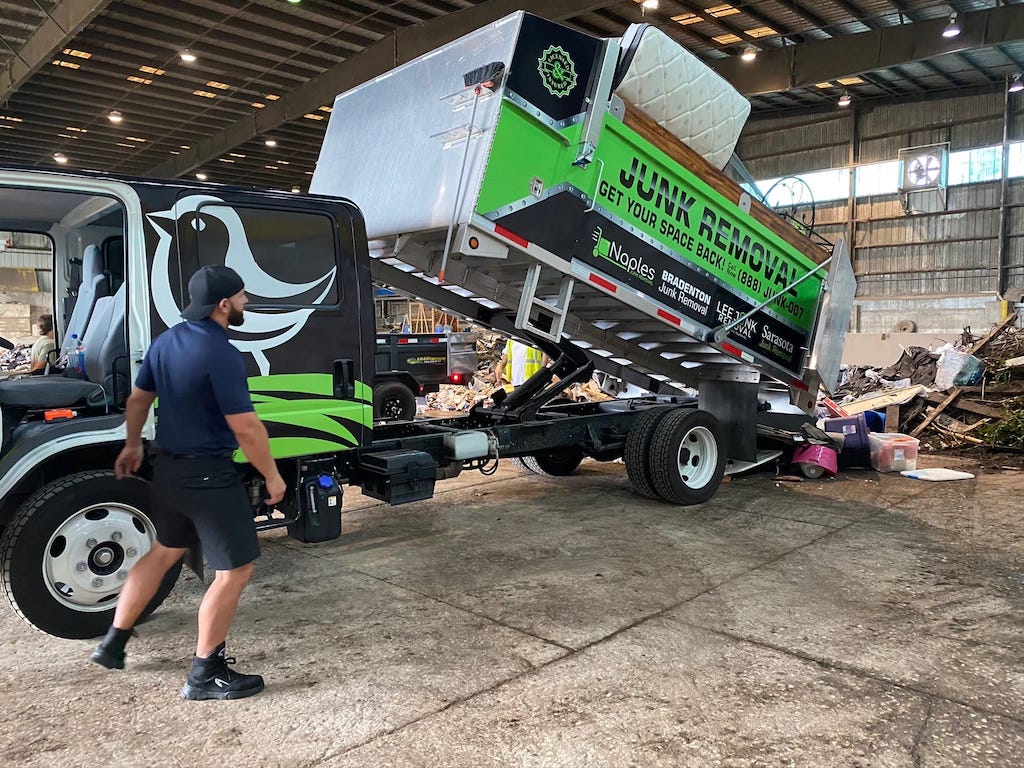 Your Junk Is Our Business
Construction Debris
Remodel debris waste ruining the look for the project? Is it in the way or hazardous to keep around? Call today and we'll have it gone before you know it – quickly and safely.
Trash Removal or Packing Materials
Houses, Garages & Storage Units
Our Commitment to Quality and Customer Satisfaction
We take pride in providing top-notch service to our customers. From explaining our pricing to making sure your safety and security are taken care of, our team goes above and beyond to make sure you get the best. Plus, we make sure our professionals know how to show up and get the job done properly, in an eco friendly manor, and completely. That way, you can trust that you're getting the best service possible.
A Professional and Reliable Junk Removal Team
When you hire us, you know you're getting a team that can take care of you. We'll get rid of all the junk on your property, from furniture to appliances to construction waste. Plus, we'll do it in the time frame we agreed on. We're also super professional, so when you give us a call, you'll be greeted by a friendly staff member.
We'll make sure your junk is taken care of so you can start to enjoy your new furniture or space. Plus, we know the local disposal regulations, so you can rest easy knowing your old junk is going to the right place.
Junk Removal Naples FL – Shop Local
Supporting local businesses is important, and that's why Naples Junk Removal. They are a trusted and reputable company in Naples that provides junk removal services to help you get rid of unwanted items cluttering your home. Naples Junk Removal provides a comprehensive service to make sure every job is done properly and efficiently. With their experienced team and dedication to customer satisfaction, you can rest assured you will get the best service for your Naples FL junk removal. Take the stress out of removing junk from your home and use Naples Junk Removal's services today!
Naples Junk Removal – Trusted Junk Haulers in Naples FL For a Reason
Same-Day Service:
With our same-day service, you can get the professional assistance you need in an emergency and make your junk pickup stress free.
Licensed And Insured Professionals:
Our certified and professionally trained team brings you value, knowledge, and security. Let us take care of the hard work.
24/7 Customer Support:
Provide fast, expert, and trustworthy solutions to all your queries 7 days a week with top notch customer service.
Environmentally Conscious:
We pride ourselves on being environmentally conscious. We recycle our appliances and ensure that all waste is properly disposed of.
Free Estimates:
Take the guesswork out of junk removal and get a free on site estimate today.
Flexible Scheduling:
With our flexible scheduling options, we can work around your busy schedule so you can get the service you need when needed.
The BirdNest Group Junk Removal Guarantee
The BirdNest Group Junk Removal is 100% committed to customer satisfaction. There is a reason we are one of the most trusted furniture, appliance, and junk removal companies in the area. Our satisfaction guarantee means we will not leave a job until the customer is happy with our work. If it takes multiple trips to haul away your furniture, we will be there until the job is complete.
Another component of our satisfaction guarantee involves safety and protection. We take every precaution to ensure that no other furniture or items will be damaged during our furniture removal process. If our team has to rearrange anything to clear a path for furniture removal, we will be sure to put everything back as it was in perfect condition. Your home will look exactly the way it did prior to our arrival minus those pesky appliances you want to be removed!
They came in a hurricane to remove a pile of wood fencing. They were courteous, quick and neat while getting pummeled by torrential rain and wind. I highly recommend them!

Fantastic process. Thank you guys!

Junk Removal came to my rescue! I attempted to move out of a storage unit with a one day deadline. It was too overwhelming & I called Mack for help. He was amazing! Scheduled the job by the next morning. Jake came with the truck right on schedule & emptied the unit all by himself in no time. He was very professional & it was truly unbelievable how fast he loaded up the truck all by himself. Everyone was very impressed. I can't say enough about how great this company is to work with & would highly recommend them. Will definitely use again. Life savers!!!


Great experience with this company from price (no price change once arrived), timely, and availability. Jake and Pete were friendly, professional, and knowledgeable about the services the company offered and even provided a business card for future removal. So refreshing to come across a company like this!

Pete and Aiden were very professional and on time. They were friendly and pleasure to work with! Recommend!


Polite personnel, efficient, careful and arrived on time with a call ahead while on route.

Pete and Matt were the "dream team", on time, friendly, efficient and a pleasure. They are an asset to your organization. Be well.

Matt and Pete were excellent! Both men were very courteous and professional. They came in and immediately began working and were extremely efficient! I would not hesitate to use this service again and highly recommend them.

My husband and I came down to Naples from WV. to take care of his mothers estate after she passed away and prepare her home to be put on the market to sell! We both stressed for months about how we were going to clear the home of contents and get it ready to sell with just the two of us. It seemed like an impossible task! Our realtor called The BirdNest and they immediately got us scheduled and came in and in one day they had the home completely emptied! We had to have the carpet removed and they did that as well. All the workers were very courteous and friendly! They were here when they said they would be, and made what seemed like an impossible task into a very positive experience! The house is now almost ready to put on the market! We also had them come back and pressure wash the house! So what I thought would take months and months to accomplish is done in less than 2 weeks! The house now looks beautiful again! Thanks to The Birdnest!

Great guys, polite, professional. Very much like this service!


Very happy with their service! Received courtesy phone prior to pick up. Both gentlemen were very pleasant, removed furniture with no problems. Will definitely use this service again if needed.

Jake and Pete were great. On time and very professional!


Clean trucks, nice employees and great customer service/quick communication!

They showed up on time and got everything out as quick as possible not leaving any bit of a mess these guys are great


These guys were so nice and polite and honestly I couldn't say enough good things about them. I would definitely call them again if need be!


Matt & Aiden can in early with a smile on their face you can tell they were tired but when out of their way to smile remove the furniture and not to create any issues with cleaning or scratches what an awesome team to have I will bring them back when we need more help Thank you guys hope you had a restful night. The Wenzel



GREAT!!!!! They came fast and were very polite, Jake and Adian great job! Thanks!!

We used them to remove a hot tub we didn't want from our lanai. They assessed that the best way to do with without damaging our screen or house was to cut it. They were prompt to return my call after submitting a request on their website, called to give us heads up that they are on the way and finished the job quickly and efficiently!! Great find! We would use them again!!

LJR was phenomenal. The guys were prompt, friendly, efficient and working hard the entire time. If I needed this service again, wouldn't consider anyone but LJR

I don't often write reviews, however I am impressed enough with the gentlemen from Naples Junk Removal and their professionalism that I feel compelled to do so! This is my honest review and recommendation for Naples Junk Removal;-)

Very polite, worked hard, great communication. Very pleased with the guys and service. Highly recommend!!

Great service, great company. I got a next-day appointment for junk pickup and it was very easy. The guys were super professional, very quick and pleasant. I'm very happy with their service!

One of the best companies and customer service. I use them almost on a weekly basis for multiple homes I manage. They are always willing to accommodate my schedule and everyone is very polite. Highly recommend this company!!

I was very concerned about how I was to have a very very heavy exercise machine removed from my home. These guys assessed, planned and removed this behemoth. Professional and very courteous!! I called them the A team! Both their names began with A.


I would definitely use this company again. They came on time, we're very polite and we're in and out quickly!




Wow! What outstanding professional young men. Not only were they prompt, they were friendly and made a difficult task bearable. Our sincerest thanks to both of them. It was a big job that they completed with speed and ease! We will most certainly be sharing your services with friends, family and neighbours!

I called for them to pick up a double recliner. They were here within 15 min. Very professional from Mac on the phone to the 4 young men that showed up. Neat, clean, helpful & professional. I will use them again for sure. Thanks guys!!!


Amazing service! Highly recommend!

They did a great job for us very professional and helpful

THE MEN FROM THE COMPANY ARRIVED ON TIME ON MON.5/3/21. BOTH WERE CLEAN & NEAT. THEY INTRODUCED THEMSELVES SHOOK MY HAND. AS I EXPLAINED THEY LISTENED TENTATIVELY. FOLLOWED EACH STEP PERFECTLY WITH PRO MOVE REMOVING 2 LARGE ITEMS WITHOUT BUMPING OR DISRUPTING ANY OTHER PIECES IN MY HOME. THEY WERE EVEN TEMPERED & STAYED PLEASANT THROUGHOUT THE MOVE. THEY ASKED ??STO CONFIRM EACH STEP, TO PERFORM THE DUTIES TO MY SPECS.I WAS VERY PLEASED WITH THE ENTIRE MOVE & THEIR HELP WITH HELPING TO MOVE OTHER PIECES INTO THE EMPTY SPOTS LEFT MY THE REMOVAL.THEIR PRICES WERE REASONABLE & THE TEAM PROFESSIONAL.I WOULD HIGHLY RECOMMEND THIS TEAM TO ANYONE NEEDING THEIR SPECIFIC SERVICES.GREAT JOB!!!👍Marlene Menzigian

Fast response and very professional! Will definitely recommend.

These guys were great, very prompt, clean and courteous and professional! Very "service oriented." I highly recommend them

Mack answered the phone promptly and was friendly and professional and scheduled same day service. The truck and two workers arrived on time and were friendly, efficient and professional. Highly recommend their services. They helped us get an estate home totally emptied to facilitate sale.

After 10 years of service, our GE Monogram refrigerator died and the cost of repairing it exceeded the cost of a new refrigerator. Ordered a new GE refrigerator including appliance removal and disposal. Unfortunately, our GE Monogram refrigerator wasn't covered so we had to find an appliance removal service. Shopped around and Naples Junk Removal was the most responsive at the best value. Loved their use of technology. It was great being able to explain my problem using text. And the staff that came to my home was outstanding. They were very friendly and genuinely concerned about keeping my home clean and damage free.

They were so nice, timely and gave me a very clear quote when I spoke with them- they were quick and came the same day I called!!! Their prices are competitive to other places I called, if not better. Also they were professional and efficient. Do not hesitate to call these guys!!!!


Can't say enough good things about these folks. Cleared out 2 households in 2 locations and accommodated our schedules during a very difficult time - Fast, respectful, professional, affordable - top notch! Call them first!

We utilized the services of Naples Junk Removal on numerous occasions to take away many large pieces of furniture and accessories from our home. They have always been extremely careful when handling all items to ensure that the pieces being removed and the walls in our home would not be damaged. It was also impressive that they adhered to the agreed upon schedule and were always on time. We highly recommend this company and will definitely call upon them in the future.

Jordan and his team delivered the best customer service I've received in a long time. They are very trustworthy, considerate, prompt and also very efficient. I would definitely recommend them and I would use their services again!!


Super nice and very professional. I will definitely use them again.

These guys are awesome! They're very professional, their rates are quite reasonable, and they got the job done right on time. Naples Junk Removal saved me quite a bit of work, as I was going to dismantle a queen-sized mattress and box spring with a reciprocal saw ... not too smart and not too fun! Call these guys instead!!!

Wow what great customer service! They returned my call, showed up on time, and they removed fast. I'm definitely using them again!!


I had the most wonderful experience with this Company. The gentlemen were well dressed and professional. They were extremely careful during the removal process to avoid hitting walls and door frames. I needed someone right away and they were able to schedule the next day. Great job! 👍



This company is amazing! Very professional quick and great value! Great customer service! Would definitely use this company again!!! Thank you!!

On-time, friendly, courteous and professional. Naples Junk Removal is a pleasure to work with and I highly recommend them for your junk removal needs. Call them today!

We had a nightmare on our hands when we purchased our condo in Naples FL. The entire condo was filled with furniture & junk left from the previous owners ... Greg and Jordan came to our rescue!!I spoke with Greg & he came out the same day to assess our situation. He gave us an estimate on the spot & we made an appointment to have everything removed the very next morning.Greg & Jordan were professional, polite, respectful and took all the stress away from us!!We had the BEST experience and would highly recommend them to everyone!!Thanks so much guys!!Jeanie

If you are ever in need of hauling, or junk removal in Naples, look no further. Jordan and Greg are wonderful. They made quick work of my accumulated junk and off it went. No fuss, time saved for me and working with these guys was wonderful. Couldn't have asked for nicer, efficient people to work with.

Thank you so much for all the hard work you and your team did in helping me clean out my parents house! I couldn't of done it without you guys! I will definitely be telling all my friends what a great job you guys did!

I had the pleasure of dealing with Greg and Jordan who came to my rescue quickly while other companies were not even getting back to me . They were very professional and did a thorough and quick job. They even volunteered to help me move some items in my house that I am not able to do at my age. I highly recommend them .

We needed assistance with junk removal/ hauling in Naples...These guys had the job done before any other company returned my call....they were very professional, courteous and personable.....and the price was right! Thanks guys....you saved my back!

Great company for removing unwanted items. Their quotes were the best in Southwest Florida. I hired them to remove a safe and 4 couches that were in my back yard, they were done in less than an hour and were extremely friendly and professional. I don't normally write reviews, but this company deserves 5 stars. Def recommending to family and friends.